MATRIX (2018)
Premiere: January 27th, 2019
Venue: Cultural Center, Đakovo
(MATRIX was also performed at the Karlovac Dance Festival in April 2018, and in Croatian National Theatre in October 2019 in Zadar.)
Directed by: Marija Šćekić
INFO
Matrix is a full evening audio visual dance show, modeled after the eponymous film "Matrix", performed by twenty students of the Marija Šćekić's School of Natural Movement. MATRIX is a "silent revolution", a way out situation in which the Šibenik children found themselves after completing their elementary dance school and had no further options to continue with their dance education in the City of Šibenik.
The play depicts conscious machines (puppets) in the bodies of children who have rebelled against stereotypes, prejudices and formalities. By gradually discarding their black dark coats, their masks disappear and the puppets become people with sincere children's hearts, erasing the boundary of the real and the unreal (in the stage, artistic, creative and human sense of the word).
These are minors who, with their stage maturity, focus and dance performance, do not deviate much from any other professional ensemble in the country and beyond.
VIDEO
REVIEWS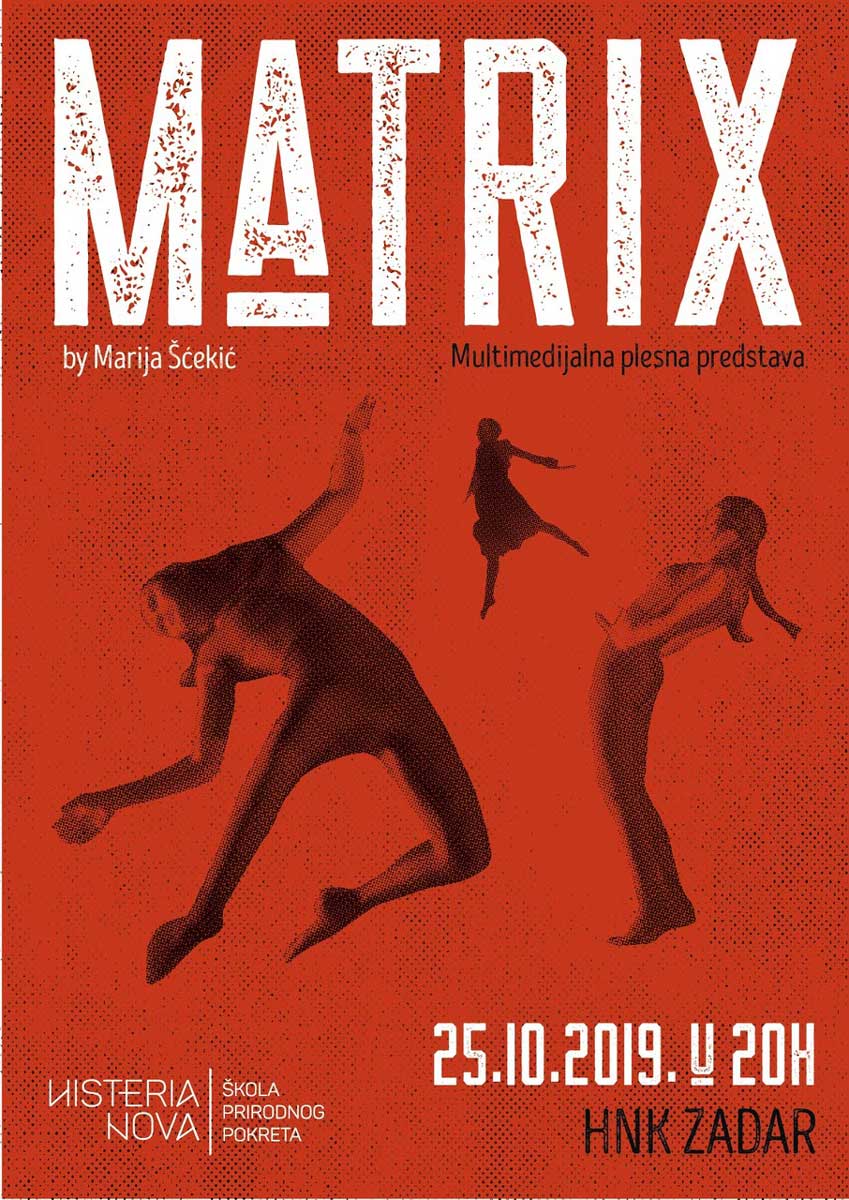 IMPRESSUM
Idea and Sinetography ©: Marija Šćekić
(Sinetography is the original movement notation by Marija Scekic, which deals with the choreography of body, sound and light movement)
Assistant Choreographers: Matilda Klanjčić, Nora Kuvačić, Andrea Milikić, Laura Galić
Dancers: Luca Mikulandra, Matilda Klanjčić, Andrea Milikić, Petra Rajić, Luce Grubelić, Nora Guardian, Martina Slavica, Luciana Živković, Lana Kursar, Emilia Klanjčić, Lara Čičmir, Mirna Gostijanović, Lea Zaninović, Elena Marić, Anamarija Jelačić, Ema Ljubić, Iva Mandić
Head of Lights: Saša Bogojević, Marija Šćekić
Sound Editing: Marija Šćekić
Sound Manager and Computer Sound Processing: Predrag Ćosić
Costume Design: Mihaela Gregov
Photography: Denis Stojnić
Production Assistants: Josipa Lončar, Marija Vuksan
Organization and Production: Marija Šćekić – Histeria Nova School of Natural Movement, 2018/2019
SPONSORS
City of Zagreb "Program Cooperation: Travno Cultural Center", Histeria Nova School of Natural Movement, Digital Media Lab - Zadar, Horizon d.o.o. - Zadar, Blue Dog - Zagreb, Ella Ella Sportswear, Small Hairdresser - Zadar
GALLERY